Over three days this weekend 16 year old Alisa Gibbons, Carmarthenshire's elected UKYP (United Kingdom Youth Parliament) representative for 2017 will be staying at the university campus in Liverpool to take part in the Annual Sitting of the UKYP Youth Parliament.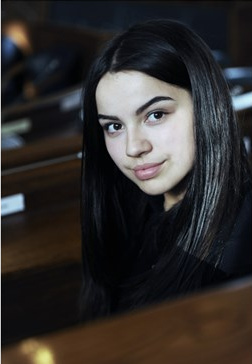 During the Sitting Alisha, who is the representative of Carmarthenshire and Wales, will be putting up a strong case and fighting for Mental Health and Access to better Mental Health services for young people to be included within the top ten national issues to be put on the 'Make Your Mark' ballot form.
Make your Mark is the largest young people consultation in the UK and we will need your help and support to reach as many young people as possible across Carmarthenshire and the UK to get involved and have a say in this years 'Make Your Mark' ballot which will be launched on 12th August 2017.
Alisha, from Tycores said "I'm feeling enthusiastic and excited to be heading to Liverpool to try and get mental health on the 2017 MUM ballot papers. Mental health is an occurring issues that affect young people's everyday lives. I strongly believe that mental health services for young people needs to be improved and every child and young person should have the right support when they need it!"
Taking part in the event will give Alisha the opportunity to meet up with and work with other members of the UKYP all aged 11-18 from across the country to make a difference for young people! She will be involved in workshops and debates to prepare her for the UKYP House Of Commons debate and vote in November to decide on which two issues from Make Your Mark will become the UKYP's national campaigns for 2018.
MYP's (members of Youth Parliament) will also have the privilege of listening to speeches made by political figures in addition to an opportunity of participating in a question and answer session.
Keep up to date with the conversation on our twitter and facebook or use #UKYP17