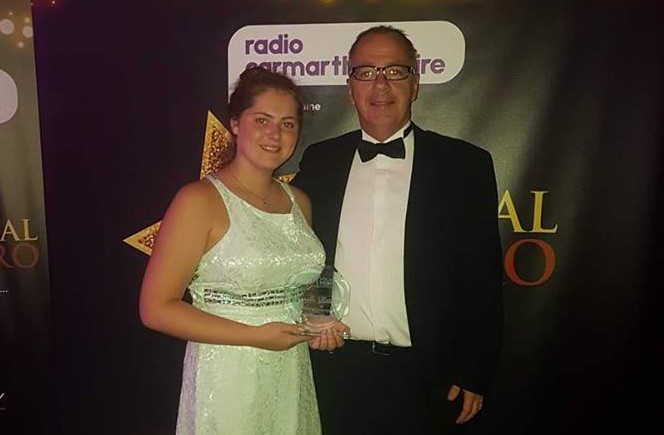 We are so proud of our member Harriet who has deservedly won Carmarthenshire Radio Child of Courage Award 2017 in recognition for the strength, fight and courage she has shown during personal difficulties
Harriet was nominated for this award by Sarah Powell, Senior Participation and Children's Rights Officer not only for her personal achievements in overcoming difficulties at such a young age, but for becoming a Young Persons Champion. Over the past 12 months Harriet has begun to share her story with other young people and adults alike, to raise awareness of mental health issues.
Harriet, 16 from Garnant said "I am absolutely delighted and so so grateful to have been nominated for the 'child of courage' award. Not only was I nominated but I'm over the moon that I have won. I hope that by winning the award it will raise awareness of how mental health issues can affect young people's lives and that more support is needed. We need to get the message out there that 'It's a bad day not a bad life!"
Sarah Powell, said that Harriet "has inspired and motivated her big sister to also campaign by attend meetings, conference, sharing their stories and are also a fundamental part of the National Mental Health Group ran by Young Wales. They champion young people's mental health issues and both; emphasis the importance of truly listening to their experience, highlighting the need to improve access to young people's mental health services in Wales, and pass on the message that you are not alone"
Sarah went on to add, "because of the passion to help others and to make a difference to the lives of others I believe Harriet is an extremely worthy winner" Harriet collected her award during Carmarthenshire Radio Local Hearo Awards evening at Parc Y Scarlets, Llanelli in early July 2017.
Mental health problems affect about 1 in 10 children and young people (source: Mental Health Foundation). They include depression, anxiety and self-harming, and are often like Harriet are direct response to what is happening in their lives. Do you need urgent help?
Do you need urgent help?
If your mental or emotional state quickly gets worse, or you're worried about someone you know Meic are ready to listen and support you
Website: www.meiccymru.org
FREEPHONE: 0808 80 23456
SMS TEXT: 84001
Email: help@meic.cymruh
You're not alone; talk to someone you trust. Sharing a problem is often the first step to recovery.