Our Communication's Officer, Gwen Griffiths, will take part in the UK Youth Parliament debate on Friday, November 11. Gwen is representing us and the county in a national debate at the House of Commons.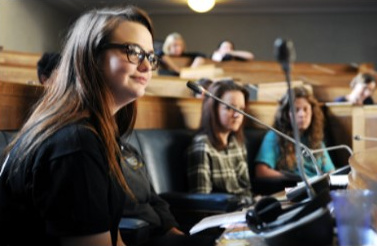 Gwen, who was elected by other youth councillors to represent Carmarthenshire, will join 300 Members of the UK Youth Parliament aged between 11 and 18.
Over the summer Carmarthenshire Youth Council (CYC) backed the UK's largest youth consultation, as the UK Youth Parliament tried to give one million young people across the UK a voice. CYC returned over 600 ballot papers for the event where they will be debating the top five issues chosen.
Each debate topic will be introduced with speeches from regionally elected members, who will put forward arguments for and against the issue.
Following the five debates, each member of the Youth Parliament will vote for their top issue to decide which will become their national campaign for 2017.
Gwen said: "I'm so thrilled to have been elected as MYP (Member of Youth Parliament) to represent the voices of young people in Carmarthenshire and Wales on a National Level. I'm looking forward to being able to have the experience of debating in the House of Commons."