The United Nations Convention on the Rights of the Child says that
"Children and young people have the right to say what you think should happen
when adults are making decisions that affect you and to have your opinions taken into account"
(Article 12 of the UNCRC)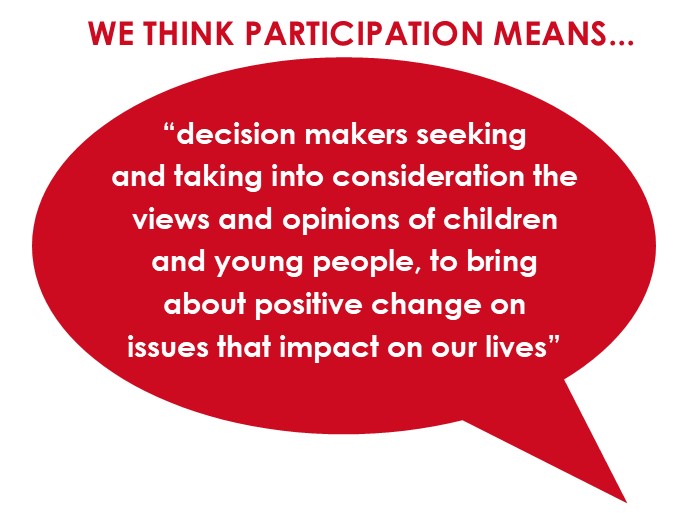 Therefore, participation is about giving children and young people the opportunity to have their voices heard and to support them to make decisions for themselves. It's about providing opportunities for children and young people to be involved and influence the decisions made by adults that affect their lives. It is about talking, listening to and hearing children and young people and encouraging and supporting them to contribute in the decision making process. Adults must act on these views and ideas whilst being open, honest and realistic with us on the levels of involvement that we can have.
In Wales we are very fortunate to have a set of Standards, called the Children and Young People's National Participation Standards designed to help anyone working with, and for, children and young people to support them to understand, experience and exercise their participation rights.
The 7 Standards inform adults what children and young people's participation should involve and feel like;
1. INFORMATION
2. IT'S YOUR CHOICE
3. NO DISCRIMINATION
4. RESPECT
5. YOU GET SOMETHING OUT OF IT
6. FEEDBACK
7. WORKING BETTER FOR YOU
If you are an adult working with or for children and young people and want to learn more on how you can show your commitment to us having our voices heard and being actively involved when decisions are being made then you can sign up to the National Charter.