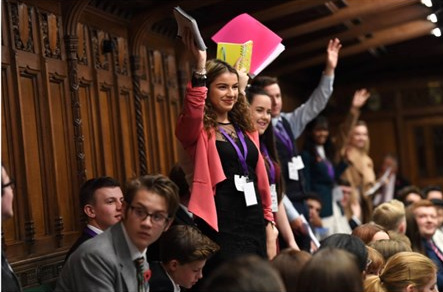 Alisha, 17 from Tycroes is our elected member of the UK Youth Parliament for 2017/18. Alisha led on the 2017 'Make Your Mark' Ballot in Carmarthenshire, which is the largest youth consultation across the UK with 954,766 young people taking part. Alisha and her team encouraged 4,635 young people aged 11-18 years across Carmarthenshire to get involved and vote on the important issue that impact their lives.
The Make Your Mark Ballot Results (page 30-31) were revealed in October and the results for Carmarthenshire were:
Top 5 results for Carmarthenshire:
727 votes – A Curriculum to prepare us for life
661 votes – Work Experience hubs for 11-18 year olds
605 votes – Protect LGBT+ People
531 votes – Votes at 16
496 votes – First Aid Education for All Young People
Alisha joined members of the UKYP in the House of Commons on Friday 17th November to debate and decide on the most important issue to campaign on for 2018. Alisha was amongst 24 members representing Wales at the event
The 2 National Campaigns for 2017/18 voted on by the UKYP Members at the House of Commons Debate in November were A Curriculum to prepare us for life, and Votes at 16
On behalf of the Youth Council and the UKYP Alisha has thanked all young people in Carmarthenshire that facilitated and took part in the Make Youth Mark Ballot this year, the largest number of young people to vote in Make Your Mark since it began in 2011
Alisha said that "being a member of the UKYP has been the most amazing thing that has happened to me as a young person. It hasn't only given me confidence and strength, but opportunities to meet people from all over the UK and hear their opinions that mean most to them. Votes at 16 campaign is a very special topic for many young people, as it gives us the voice and chance to help shape decisions that affect us most. It will ensure younger people are becoming politically active, and ensure they're aware of the changing world and the decisions that can affect them."
She also added "A Curriculum for life is also a very important campaign as we, the younger generation need a curriculum that will prepare us for the busy world ahead of us. I'm very excited to be a part of, and see the work we have ahead of us, ensuring that we continue to provide the younger generation with a true voice."
Friday 26th January, saw Alisha and members of the UKYP Official Launch the National Campaigns as part of the National Day of Action. We, led by Alisha will be developing projects and initiatives to find out more about young people's views and opinions on the two national issues. Such as School Council Debates, Consultation opportunities, raising awareness via social media and working with Senior Managers in Education about the Curriculum Reform taking place in Wales.