Our member Harriet, aged 16 who was badly bullied has again been congratulated for her strength of character and courage by receiving a Cwmaman Town Council, Community Award.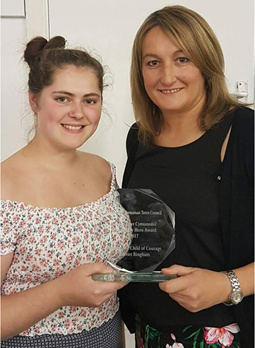 Harriet Alsop-Bingham, from Garnant suffered cruelty by a group of bullies from the age of 11, who tortured her to the point that she felt completely worthless and started to self-harm, Since receiving the help and support she so desperately needed, Harriet has fought to get her life back on track. Harriet was presented with the Cwmaman Community Award at a presentation evening, organised by Cwmaman Town Council in September.
On receiving the award Harriet "I am over the moon to have been nominated and to have received the second award, the Cwmaman Town Council., Community Award. I'd like to thank Sarah for nominating me and for everyone who believed in me"
Harriet was first recognised for her achievements through winning Carmarthenshire Radio Child of Courage Award 2017 during the Summer, in recognition for the strength, fight and courage she has shown during personal difficulties. Harriet has found the courage to share her story with others to raise awareness of mental health issues, and to encourage anyone suffering as she did to seek help.
CONGRATULATED BY CARMARTHENSHIRE COUNTY COUNCIL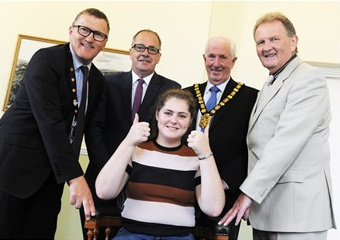 On Tuesday 22nd August, Harriet Alsop-Bingham, a 16 year old CYC member and winner of 2017 Carmarthenshire Radio Local Hero, Child of Courage Award attended a reception at County Hall, Carmarthen with Carmarthenshire County Council's Chairman Cllr Irfon Jones, Leader Cllr Emlyn Dole, Cllr Glynog Davies and Interim Director of Education & Children Gareth Morgans. At the reception, Harriet was commended for her bravery and determination and in recognition of her achievement was presented with a small gift by Cllr Irfon Jones. Harriet also had the opportunity to share her experiences with elected members and officers.
Cllr Dole said: "Harriet is truly a Child of Courage and deserves this honour. She has not only fought to overcome her personal difficulties, but she has also spoken out publicly to try to help others…. She deserves this recognition which is testament to her strength of character and courage."