Working with Children In Wales we are providing three half day Training sessions on Participation and Children's Rights for Practitioners, Managers and Policy Makers from Education and Childrens Services Department keen to explore how they can maximise the involvement of children and young people in their service area of work and the work of the organisation.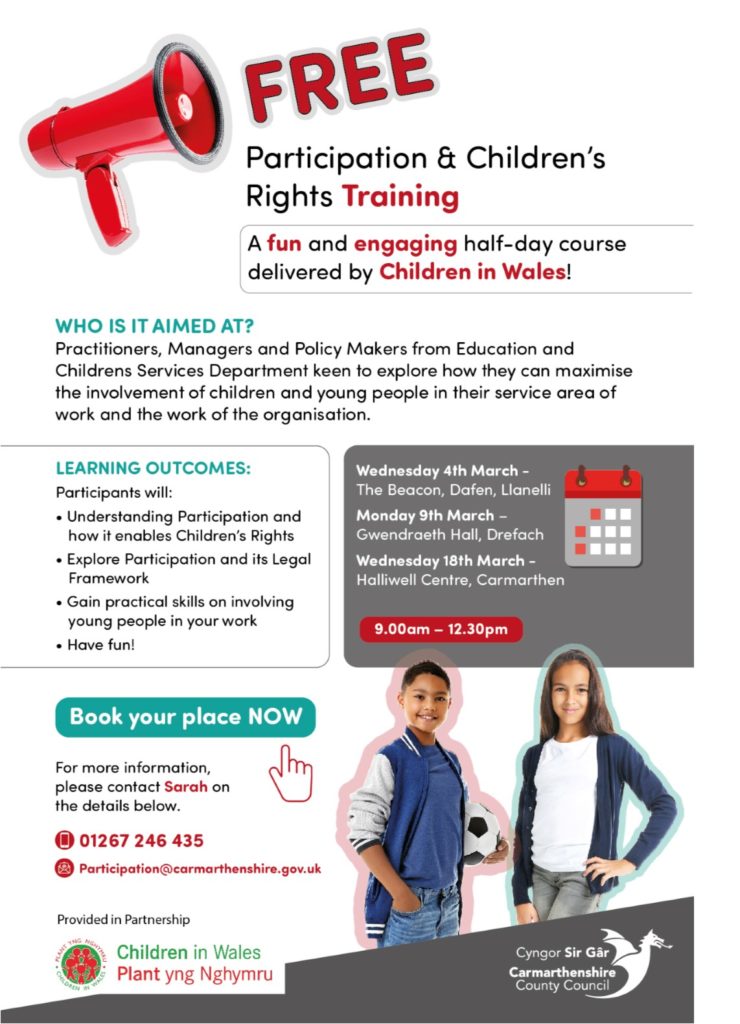 THE TRAINING WILL:
● Set out the theoretical and legislative framework for children and young people's participation in Wales and involve techniques that can be used directly with children and young people;
● Explore the methods that can be used with children and young people on an individual and group bases to include them as widely as possible in decisions that affect their everyday lives;
● Help participants feel empowered to use practical tools to support children and young people's participation.

TRAINING DAYS:
● Wednesday 4th March 2020 – The Beacon, Llanelli
● Monday 9th March 2020 – Gwendraeth Hall, Drefach
● Wednesday 18th March 2020 – Halliwell Centre, Carmarthen


ABOUT THE TRAINER:
Mike Mainwaring has worked with Children and Young People for over 25 years.  Specialising in substance misuse, youth homelessness, participation and children's rights.  He is a qualified trainer and has trained children, young people and adults on substance misuse, LGBT issues, children's rights, participation, dealing with difficult behaviour, safeguarding and child protection, Child Sexual Exploitation and boundaries. 
He has also developed and run youth lead research projects. He has worked in various settings such as street drug projects, residential rehabilitation, outreach work, play, youth work, managed housing projects and run youth councils. He has an art background, working with young people in distress through the medium of art and exhibiting his own work about social issues.
FOR MORE INFORMATION PLEASE CONTACT:
Sarah Powell, Senior Participation and Children's Rights Officer
Email: Participation@carmarthenshire.gov.uk Tel: 01267 246435 (ext 6435)