Spreading the word on Children's Rights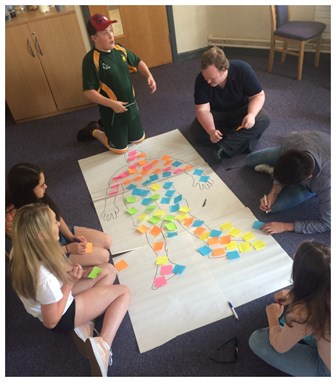 CHILDREN'S RIGHTS COMMUNITY AMBASSADOR SCHEME 
We are now involved in the Children's Rights Community Ambassador Scheme and we are so excited to have to opportunity to get involved and spread the word about Children's Rights! It's the first time for us to have Ambassadors. 

This scheme is run by the Children's Commissioner for Wales, who is Sally Holland. Sally's job is to tell people why Children's Rights are so important, and to look at how the decisions made by public bodies in Wales, including Welsh Government, affect Children's Rights.

When it was announced in our monthly meeting that there would be the opportunity for some members to become Community Children's Rights Ambassadors I knew it was something I wanted to get involved with. I feel that Children's Rights is such an important topic so it's great that Sally Holland has started this Ambassador Scheme. By becoming an ambassador I hope to raise awareness of children's rights to children and young people across Carmarthenshire. Furthermore, I hope to gain more knowledge on Children's Rights myself as I would love to broaden my understanding. I am now one of Carmarthenshire's First Children's Rights Ambassadors which is such an amazing opportunity and also a great privilege. I cannot wait to see what this scheme holds for not only myself but Carmarthenshire.

SO SOME OF YOU MAY BE WONDERING WHAT ARE CHILDREN'S RIGHTS?

Hopefully throughout the scheme, with support from Carmarthenshire Participation and Childrens Rights Team our Community Ambassadors will be doing work around raising awareness of Children's Rights so more children and young people are informed and have a greater understanding, but until then here is a brief description of children's rights. 

Children need special rights because they need extra protection that adults don't, that is why the United Nations Convention on the Rights of the Child (UNCRC) was made. The UNCRC has a list of 52 articles in total and 42 of these are rights for children. The other 10 are articles on how adults and governments should work together in order to ensure children can access their rights.

OUR ROLE AS AMBASSADORS
As community ambassadors we will have three main jobs and these are:
• Tell others about Children's Rights
• Tell others about Sally and the Children's Commissioner's Team
• Be a voice for the Children's Commissioner on the ground and to feed in to her work by completing missions (each term) where we will be speaking to other children and young people to gather their views on a wide range of issues important to them 

DO YOU WANT TO BE AN AMBASSADOR FOR CARMARTHENSHIRE?
We are all looking forward to starting our work as ambassadors as raising awareness about children's rights is something that as a Youth Council we feel passionate about! If you are 11 – 24 years old we have opportunities for you to be involved as Childrens Rights Ambassadors so if this is something you would like to do then please get in touch or be sure to follow us on our social media so you can keep up to date with all our work we will be doing!

Also for more information on the Children's Commissioner for Wales you can visit the website: www.childcomwales.org.uk