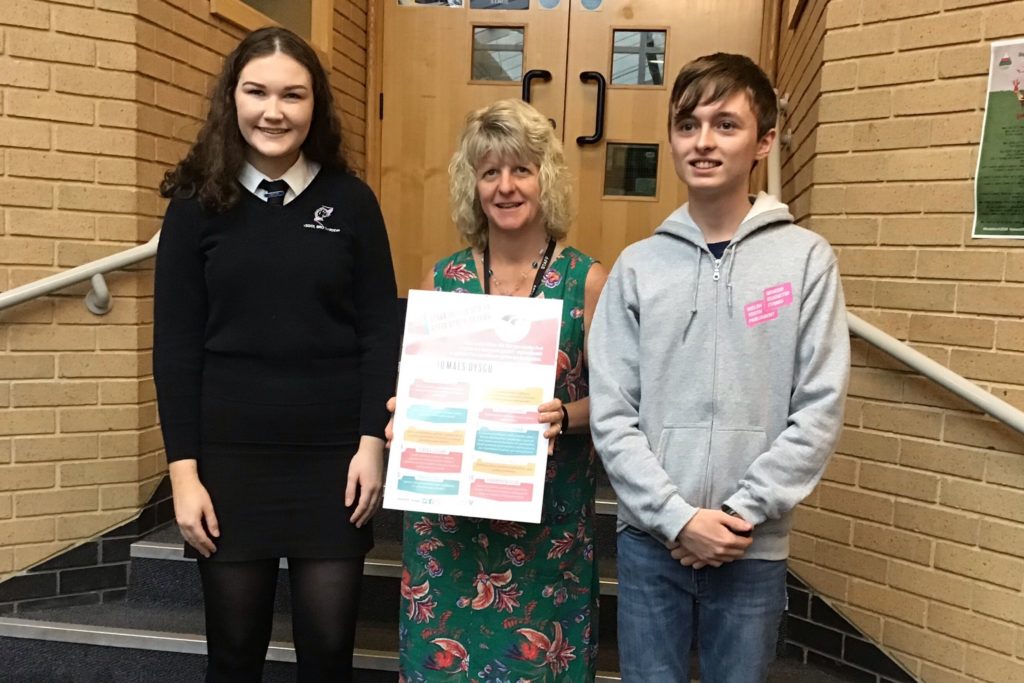 We have had a busy time recently with members travelling to all corners of the County delivering our Real Learning 4 Real Life Charters to all Secondary Headteachers to ensure there is a copy displayed in each of our Secondary Schools.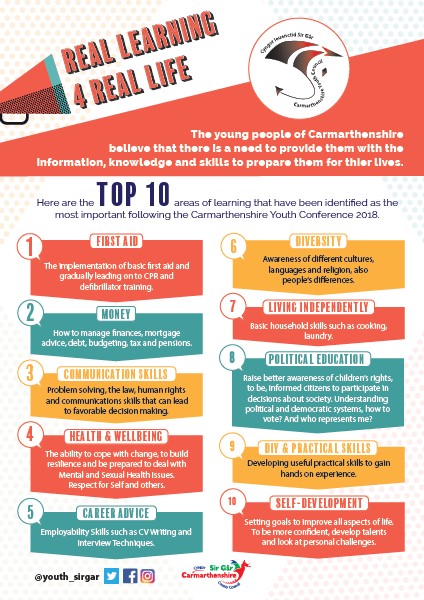 Our Charter captures the views and opinions of over 150 young people and shows the TOP 10 Areas of Learning such as First Aid, Living intendedly, Political education and DIY, that we think should be taught in schools to give us the information, knowledge and skills needed to prepare for our futures.
We act as a voice for young people by representing the views and opinions of other children and young people in issues important to them. In doing so, we create opportunities for other young people to participate meaningfully in decision making on issues that impact on their lives and to bring about positive change.
Our Member Steffan said "We are really excited that a new curriculum is being introduced in Wales, making it so important to explore education and make sure young people are involved in its development. We want a curriculum that is engaging and relevant to young people so that it is a key to positive change in Carmarthenshire and Wales. We are looking forward to having a curriculum that will help shape young people's futures and to prepare us for the rest of our lives"
OUR CONFERENCE… We gathered the views of young people from our Annual Youth Conference held in November 2018. Curriculum to Prepare Us for Life was voted the number one issue in Carmarthen, Wales and the UK in 2018 Make Your Mark Ballot. The conference gave young people aged 14-23 years old the opportunity to have their views, comments and opinions heard by elected members and decision makers in Carmarthenshire to influence the local curriculum and the learners' entitlements here in the County.
MEETING EDUCATION HEADS… With support of the Participation Team, in the Spring we had the opportunity to present our Real Learning 4 Real Life Charter and our findings to Carmarthenshire's Secondary Head Teachers and Senior Education Mangers with the aim of influencing the new local curriculum being developed as a part of the New National School Curriculum 2022.
NATIONAL SCHOOL CURRICULUM 2022… Education Is Changing! Welsh Government is changing the way we learn and want all children and young people to be:
– Ambitious and capable learners;
– Enterprising and creative contributors;
– Ethical and informed citizens;
– Healthy and confident individuals
You can get invovled and have your say on the new curricumlum on social media using #CurriculumForWales or by visiting the Welsh Government Website