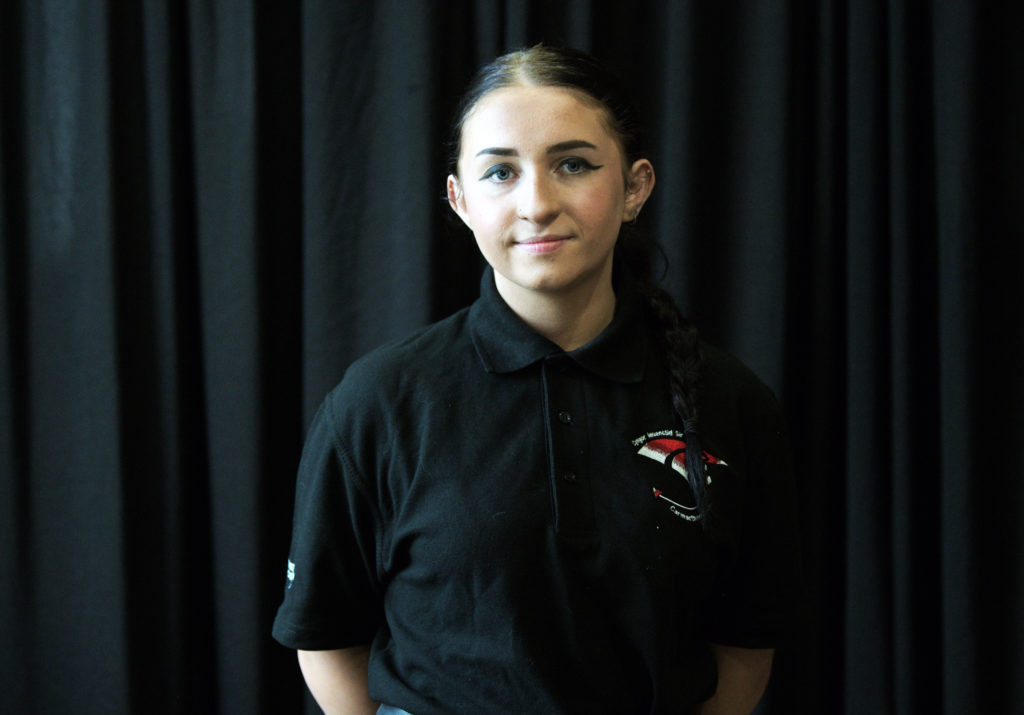 Our UK Youth Parliament Member, Olivia, 17 from Hendy is preparing to represent Carmarthenshire and Wales at the UK Youth Parliament Annual Sitting taking place in the House Of Commons, Westminster later this week. ‌​‌​‌​​​‍‌​‌​​‌‌‌‍‌​‌‌​​‌​‍‌​‌‌‌​‌‌‍‌​‌‌‌‌​​The event, which is their twelfth sitting, is taking place on Friday 17th November 2023 where Olivia with other representatives will contribute to a debate and vote to decide the issues they will prioritise for their 'Food for Learning' campaign. 
Olivia has been a Youth Council Member for over 5 years and has been elected by other Youth Councillors to represent Carmarthenshire. She will be joining over 200 Members of the UK Youth Parliament aged 11-18 who will take part in a national debate in the House of Commons. Speaker of The House, Sir Lindsay Hoyle MP will be welcoming the Youth Parliament for their annual sitting in the house, with the afternoon sessions chaired by Deputy Speaker of the House of Commons, Nigel Evans MP
Olivia, who is a dedicated and passionate young person said;
"Being able to represent Carmarthenshire at the Annual Sitting in the House of Commons, London excites me. I'm thrilled to have this opportunity but also a little anxious. I'm particularly interested in hearing what young people from other places have to say and expressing my own views. I sincerely hope that I will have the opportunity to speak with many new people and explore a variety of topics that are significant to young people in the UK."
Members of the Youth Parliament will vote. Each debate topic will be introduced with speeches from regionally elected Members of Youth Parliament, who will put forward arguments for and against the issue, before opening up to the floor. Following the five debates, each Member of Youth Parliament in the Chamber will vote for their top issue to decide which issue will become their national campaign for 2023
THE 5 TOPICS BEING DEBATED;
★ Holiday Hunger – Create provisions to ensure young people have access to meals outside of term time
★ Quality of Food – School meals should be made using good, healthy and nutritious ingredients and no ultra-processed foods.
★ Standardisation – Ensure young people all have access to the same quality and volume of food in schools.
★ Financing and Funding – Create arrangements to fund school meals.
★ Additional Pricing – Ensure the prices of any additional food are reasonable and consistent across the UK.
Following the sitting, Members of Youth Parliament will campaign on the issues they vote as their priority. They will also conclude their year-long efforts to draft their Parliamentary bill.
Sarah Powell, Carmarthenshire's Senior Participation Officer said
"Olivia is incredibly excited to be a part of the UK Youth Parliament and it's an amazing opportunity for her. It's great to see so many young people engaging in politics to talk about issues that matter to them and contributing to making a difference, especially in the financially challenging climate that we face. I'm so proud of Olivia in representing Carmarthenshire at such an important national event."
The debates will be streamed live (with a 20 minute delay) on Parliamentlive.tv or you can follow the conversation on Social Media using #UKYPHoC