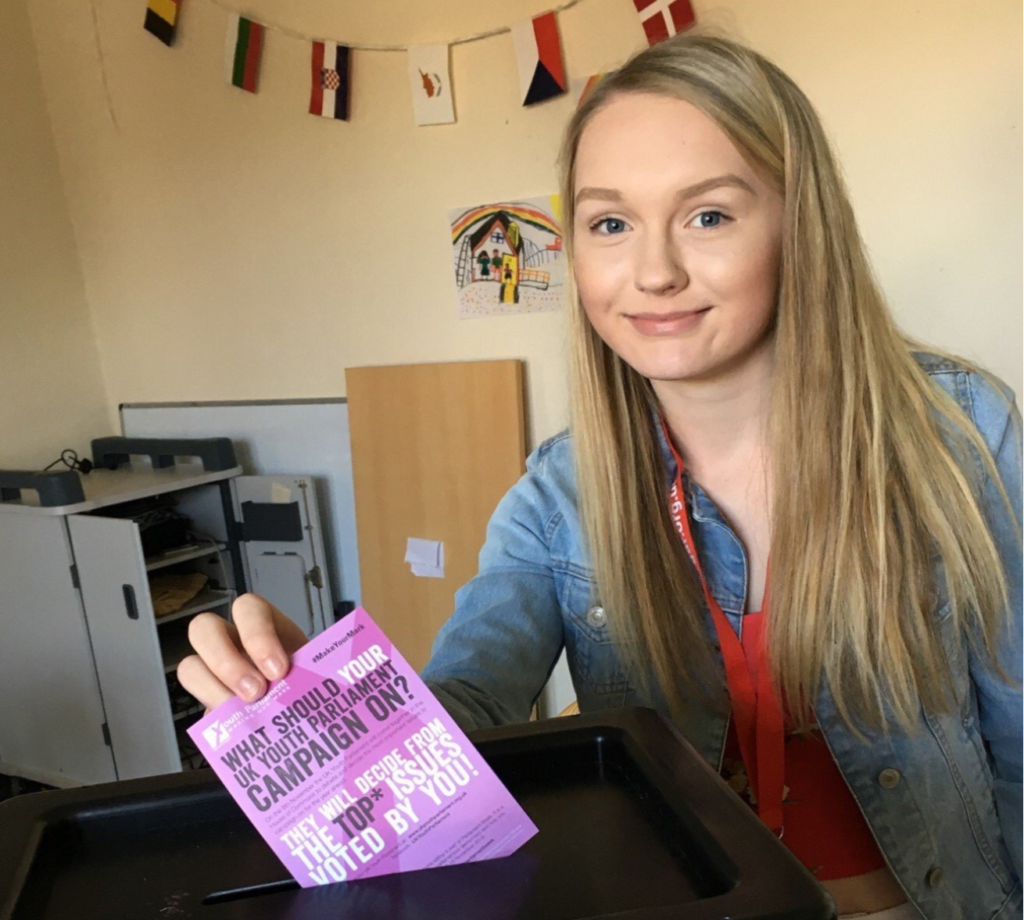 Amber, 16 from Burry Port is our elected member of the UK Youth Parliament for 2019/20. Amber will be joining members of the UKYP in the House of Commons on Friday 8th November to debate and decide on the most important issue to campaign on for 2019. Amber will be amongst 24 members representing Wales at the event.
Ahead of the event Amber said "I'm so excited to be attending the House of Commons on the 8th November to represent both Carmarthenshire and Wales. It is an opportunity I could have only ever dreamed of so I am just so grateful to have been elected to do so."
Amber led on the 2019 'Make Your Mark' Ballot in Carmarthenshire, which is the largest youth consultation across the UK with over 800,000 young people taking part. Amber and her team encouraged more than 4,000 young people aged 11-18 years across Carmarthenshire to get involved and vote on the important issue that impact their lives.
In November, Amber and Members of the UK Youth Parliament will come together to debate and decide at the UKYP House of Commons sitting the most important issues to campaign on for the year ahead. The sitting will mark the end of Parliament Week. The Make Your Mark Ballot Results (Carmarthenshire and Wales Results can be found on page 26 – 27) were revealed in October.
The five issues to be debated at the Annual Sitting are:
1. PROTECT THE ENVIRNOMENT
UK Issue – We have a responsibility to protect the environment from the effects of climate change for the next generation; and that the Government should look towards carbon neutral alternatives.
2. PUT AN END TO KNIFE CRIME
Devolved issue – Too many young people's lives are lost to knife crime; the Government need to do more to help end the knife crime epidemic.
3. MENTAL HEALTH
Devolved issue – Services should be improved with young people's help, and should be available in schools.
4. TACKLING HATE CRIME
UK issue – We should be educated on how to report hate crime. We believe the Government should invest in creating safe spaces that promote unity in communities.
5. CURRICULUM TO PREPARE US FOR LIFE
Devolved Issue – Schools should cover topics like finance, sex and relationship education and politics
Amber added "I'm looking forward to debating the top issues from Make Your Mark in the Houses of Commons and will ensure that the voice of over 3700 young people in Carmarthenshire will be heard up in Westminster. I would like to thank all the young people who did engage in Make Your Mark this year, an amazing effort was seen in Carmarthenshire! Thank you"