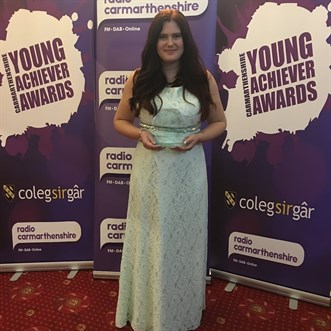 Our Chairperson Brittany has been nominated for and awarded the Young Volunteer of the Year award in the Radio Carmarthenshire Young Achiever Awards 2018. This year's award ceremony was to recognise young people across Carmarthenshire who truly make a difference in our community.
The Awards, proudly sponsored by Coleg Sir Gar, were held in the Best Western Diplomat Hotel on Friday 19th October 2018.
Brittany, on being asked how she felt about winning the award, said "I'm so happy to be receiving this award, it's such an amazing thing to happen".
Brittany has received this award because of her years of hard work in Carmarthenshire Youth Council by completing over 500 Volunteering Hours back in April this year during our AGM.
We are all so proud of our Chairperson and thank her for her commitment, dedication, and her enthusiasm for the Youth Council, and congratulate her on winning the prestigious award.