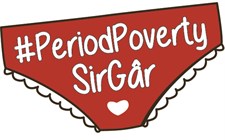 We have been working with Officers from Education Services and Youth Support Services from Carmarthenshire County Council on Period Poverty. It is such an important issue that affects so many women and young girls; one in ten girls aged 14-21 living in the UK are unable to afford sanitary items.
We were shocked when we learnt about that statistic and even more shocked when we learnt how some young girls stay at home from school due to not having adequate protection whilst on their period. This is why we decided to start the Period Poverty project to ensure no girls have their right to education compromised whilst being on their period, and equally as important, our attitudes need to change; we need stop the feeling of shame and embarrassment surrounding a girl's "time of the month". Working with staff from the County Council we have been involved in gathering the views of young people and voicing our onions to make sure a Welsh Government Grant given to all local authorities in Wales is spent in the best possible way.
"We are so excited to be leading the Carmarthenshire Period Poverty project as it is such an important issue. It is heart-breaking to hear about stories where girls are missing out on education due to not having sufficient protection whilst on their period so it is clear something needs to be done. I hope that this project does make a difference within Carmarthenshire so we can come one step closer to ending period poverty once and for all!"
How people in Carmarthenshire are benefiting…
So you may be wondering what we will actually do with this project To help you out, here are some commonly asked questions with our answers:

WHAT HAVE YOU DONE?
We have given a box full of products and extra supplies to a wide range of services, organisations, youth projects and businesses across the county. In the boxes there are a variety of sanitary products which can be taken for FREE when needed. These products are FREE to improve access to essential eco-friendly tampons, pads and reusable sanitary products for those who need them in our communities.
HOW ARE YOU PAYING FOR ALL THESE PRODUCTS?
Since 2019 we have been very fortunate to receive over £13,000 from Carmarthenshire County Council as part of a wider Period Dignity Grant given to them each year from Welsh Government.
HOW CAN I GET FREE PRODUCTS?
Products are available in over 50 locations with colleges, businesses, services and orgnaisations who have kindly supported the project from across the county. Also, every Primary, Secondary and Special School in Carmarthenshire has benefited from the Period Dignity Grant and are able to provide young people with the products needed.
If you are able to support young girls by providing free sanitary products please download and print a copy of our information poster.
HOW CAN I GET INVOLVED?
If you are an organisation, service or business that can support the project by providing access to or distributing products to our communities then we would like to hear from you so please get in touch and you can contact us on Contact us on info@carmarthenshire.gov.uk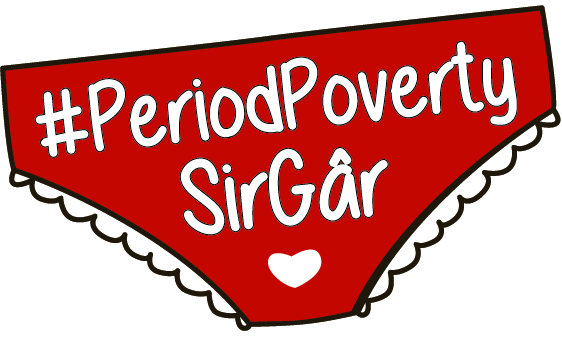 HOW CAN I RECOGNIZE YOUR PROJECT?
Keep an eye out for our #PeriodPovertySirGâr Knickers logo on posters, promotional items, social media and more importantly if you see it on a toilet cubical door it means there are free products there for you to use… no hassle, no fuss and no questions.
CAN I RECEIVE UPDATES ON YOUR WORK?
We will regularly be posting updates on our social media pages so make sure you follow us on Twitter, Instagram and Facebook to stay aware with what is happening. You can also join in the conversation on social media by using #PeriodPovertySirGâr
FOR MORE INFORMATION
For more information or if you are interested in getting involved then please contact the Participation and Childrens Rights Team on 01267 246435 or on info@carmarthenshire.gov.uk We hope to see your support with our project and so that together we can tackle period poverty for once and for all in Carmarthenshire!
Article by Freya and Amber