We are so happy as Carmarthenshire Youth Councillors have devoted more than 1200 hours to the Participation and Children's Rights Work on a local, regional and national level during the past 12 months. In celebration and in recognition of our volunteering hours we were presented with National Millennium Volunteers Certificates by Cllr Cefin Campbell, Executive Board Member for Communities and Rural Affairs and Marie Mitchell Chief Officer at CAVS in recognition for the time we have given.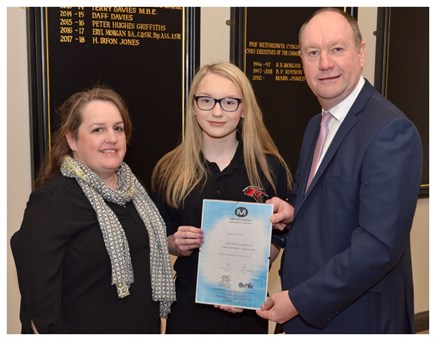 CAVS, Carmarthenshire County Council and the Youth Council have been working in partnership since 2007 to give recognition to the young people of Carmarthenshire through the CAVS Youth Recognition Scheme and the Millennium Volunteers Scheme. Since 2007, 92 Youth Councillors have registered on the CAVS Youth Recognition and Millennium Volunteers Scheme.
Carmarthenshire Youth Councillor Amber Treharne, 14 from Burry Port said " Since becoming a member of CYC it has allowed me to gain many different experiences through volunteering. I think that volunteering is such a rewarding experience as it really does develop you as a character. Not only does volunteering open up a wealth of experiences, it allows you to gain a variety of skills, such as team-work, that are beneficial to you in day to day life and also as you progress into further study and careers. I would advise anyone who ever receives the chance to get involved with volunteering to go for it because only then will you fully understand how rewarding it is!"
For more photographs of the presentation please visit our instagram
Sarah Powell, Senior Participation and Children's Rights Officer for Carmarthenshire County Council, Carmarthenshire Youth Council and Fflur Lawlor, Volunteering Officer for CAVS over the years have been working together and listening to our views in order to recognise the work, time and commitment the young people of Carmarthenshire give their local communities in the county. Between them they have developed a Youth Recognition Scheme for 11-14 year olds, lobbied GwirVol the Youth Volunteering initiative for Wales, to lower the Millennium Volunteers age to 14 from 16 – which they succeeded and now more recently have developed a 500 hour certificate.
Sarah said "Words cannot adequately express the gratitude that I wish to convey for all the time, effort and commitment that all members of Carmarthenshire Youth Council have given to my work and the Children's Rights Agenda both locally and nationally. I'd like to add that their volunteering is appreciated, valued and cherished"
NEW 500 HOURS VOLUNTEERING ACHIEVEMENT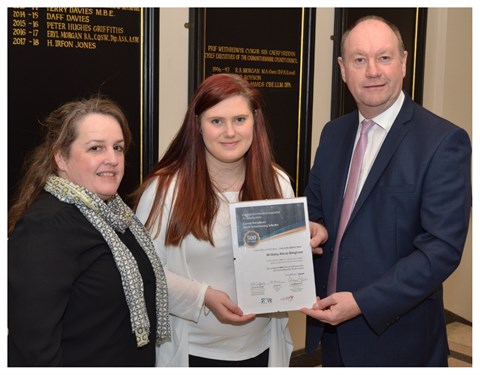 Brittany Alsop-Bingham said "I feel very honoured to be awarded with Carmarthenshire's 500 hours Certificate. I feel I have gained a number of skills volunteering with Carmarthenshire Youth Council and my role as chair has increased my confidence with Public Speaking and bettered my communication skills. I would encourage everyone to volunteer"
WE MATTER. WE MAKE A DIFFERENCE
Millennium Volunteers is a way of recognising what we have done and shows our commitment to making sure children and young people have a voice in Carmarthenshire. There are so many reasons to volunteer… so here are just a few:
Volunteering is a fantastic way to support a cause that you care about and learn new things along the way.

Build your experience and skills while growing your confidence
Make a difference to others
Meet people, have fun and be part of your community
Feel valued and make a difference.
There really is a volunteering opportunity for everyone and if you are 11 to 25 years old and interested in volunteering or you are already Volunteering in Carmarthenshire and want to know more about the Millennium Volunteers Scheme then please contact Carmarthenshire Association of Voluntary Services by visiting the CAVS Website, Phoning 01267 245555 or Emailing admin@cavs.org.uk