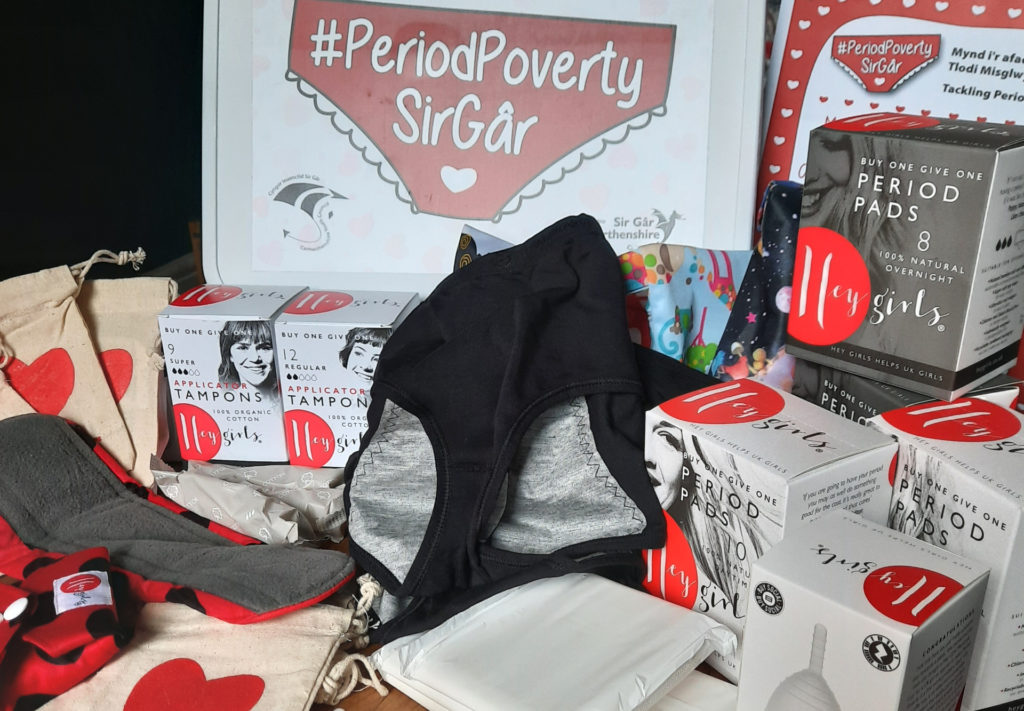 Once again, this year we have been fortunate enough to be given £13,437 as part of the Welsh Governments Period Dignity Grant to provide FREE Sanitary Products to girls, women and people who have periods of all ages from across Carmarthenshire.
We would like to thank everyone who has supported us during the last two years and hope you continue with us on our journey into the third year as we are making a difference! Together we can continue to move forward ensuring period dignity is something that everyone has in Carmarthenshire.
With the support of Carmarthenshire County Council Youth Support Service we are again hoping to distribute Eco Friendly and reusable products to as many services, organisations, projects and business across the county ensuring that products are available and accessible to as many people as possible with no fuss, no hassle and no questions!





FEEDBACK – If you have been a part of the project during the last two years or have received any products then we would like to have your feedback. Do you have any comments, ideas, complaints or suggestions on how we can further improve our project or products? We would love to hear what you are thinking!
Your feedback is very important to us as it will help shape the project and help us decide on what products to buy from the grant. We would like your views and feedback before Friday 30th October 2020.
DISTRIBUTOR – If you are an Organisation, Project or Business in Carmarthenshire and would like to support the project by becoming a 'distributor' (having free stock of sanitary products made accessible for girls, women and people who have periods in your in your community) then please contact us for more information. We are especially interested in new distributors in the more rural areas of the county.
Please feel free to fill out our short Feedback Form, contact us by commenting below, sending a message via any of our social media accounts using #PeriodPovertySirGâr, by emailing the Participation Team on particiaption@carmarthenshire.gov.uk